International Student Housing Guide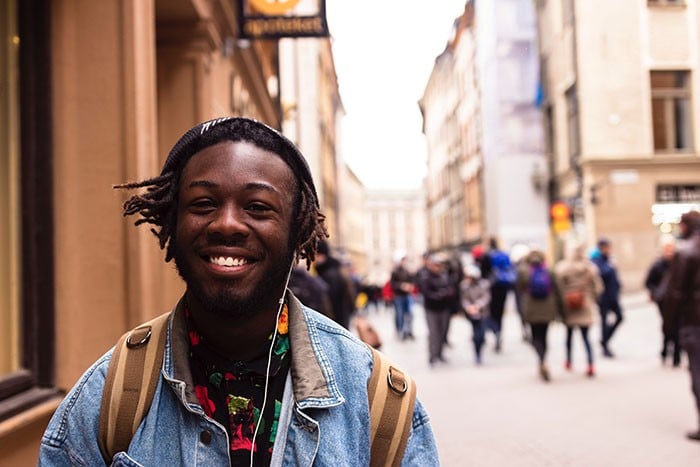 Stockholm man with headphones by Yingchou Han is licensed under CC0.
It might seem simple for an American to find plenty of international student housing, but it's hard to be an international student deciding on where to live in a brand new country. The language used to describe the housing, the location and the culture is all new for you.
While where to find apartments and pricing varies based on your location, the following information remains constant throughout the United States. This guide will help answer some of the questions swirling through your head about how to secure international student housing.
A Guide to International Student Housing:
Table of Contents
The Process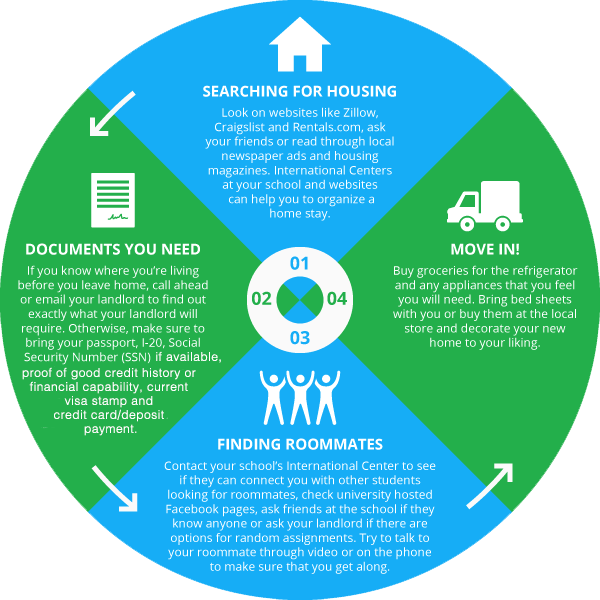 Things to Consider When Selecting Housing
Types of Housing
Off-Campus Housing
Off-campus housing is typically more spacious than living in a dorm room. However, living off-campus makes it more laborious to come to campus for extracurricular activities, socialize and to attend spaced out classes.
Students often look for housing with access to a bus stop or housing within walking distance of campus because parking is difficult to find on most campuses.
Host Families – help you adjust to life in a new country and can make your parents more comfortable sending you to a different country. However, staying with a family off campus will make it harder to build strong bonds with your peers. Host families are more consistent than living with other college students, as family schedules are typically the same semester after semester. Living with a host family is usually the cheapest option because everything is included. It's also convenient because, if the price includes food, you don't have to worry about transportation to and from the grocery store while carrying lots of bags.
Apartment Complexes – host community activities and events to help you bond with your peers. Most apartment complexes near universities are mainly filled with students.
Renting a House – is a great option if you have friends traveling with you to the United States. The housing is more spacious and less expensive.
Off-Campus Housing or Dorms
Students who live in dorms have an easier time coping with spread out classes, as they can return to their home during shorter breaks when an off-campus student would need to hang out around school. It is easier to go to the library, club meetings and class when you live in a dorm. Dorm rooms are often smaller than off-campus housing and sometimes, students are required to share bathrooms and kitchens with large amounts of people. Often students in dorms share rooms with one or more other students.

College Dorm Room by Footprint is licensed under CC BY 2.0.
Where do you want your apartment to be?
It is important to find bus transportation to campus if you live farther from campus. Call ahead to apartment complexes or research online to determine how close the bus will be to your door. Find out how many bus routes stop at your apartment complex and how often they do so. Many houses will not have nearby bus stops. Make sure to determine how you will get to campus, and remember to take the weather into consideration.
Look up the neighborhood you're looking to live in online before moving in. Make sure that it's safe! Check to see where the nearest grocery store is and figure out how you will get to and from it.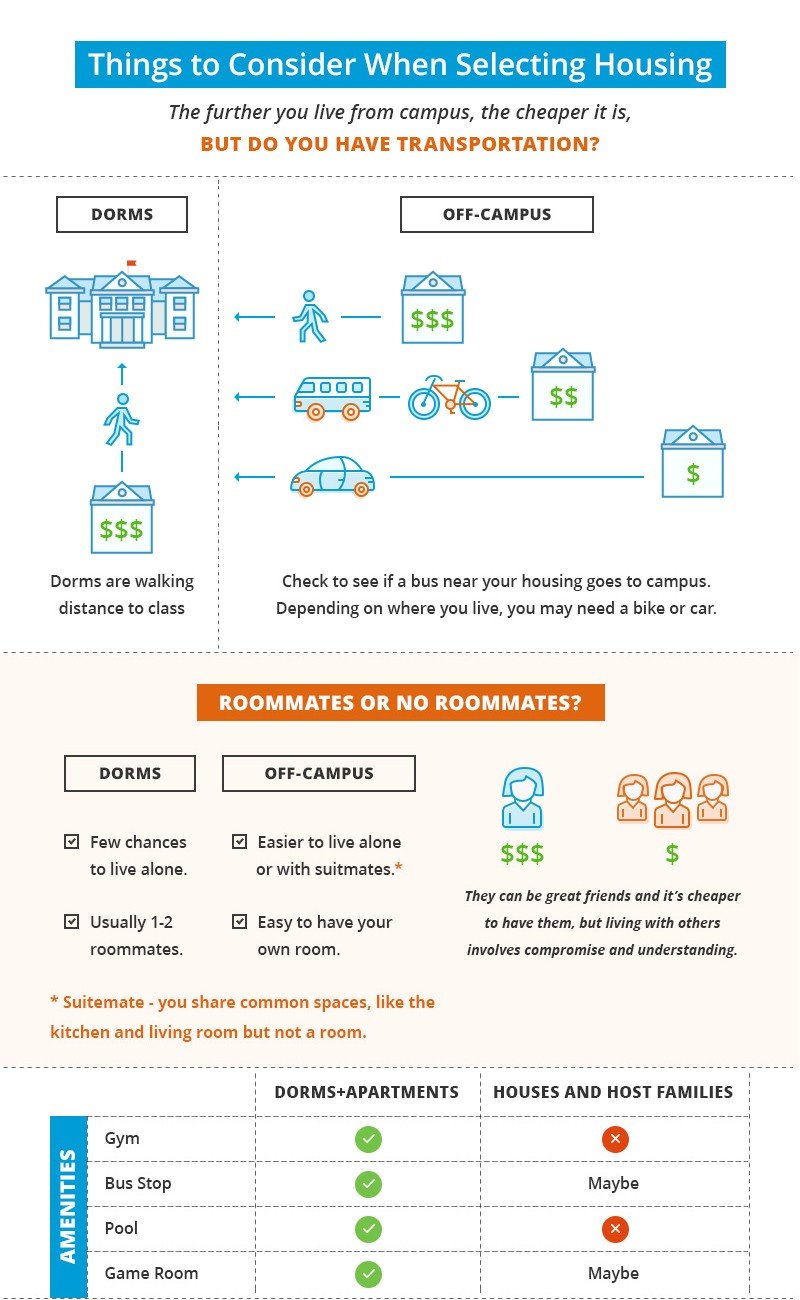 How much are you willing to spend?
The money you spend on housing can be more than your monthly rent payment. Utilities, parking and repairs can put you well over what you thought you would pay that month. Ask yourselves the following questions before deciding on your apartment:
Does the apartment come furnished? How much are you willing to spend on furniture? Ask your landlord to send you measurements of the rooms if it is not furnished.
Ask the landlord and check your contract to see if the rent can increase while you're living there. If it can, by how much?
Do you need a security deposit?
If you have a car with you, does parking cost extra?
Do you need to give first- and last month's rent up front?
Does the apartment you're looking at cover utilities? If not, how much more than rent can you afford to pay monthly?
Will your landlord take care of repairs or maintenance?
Does your housing include a laundry unit inside or nearby? How much does it cost to wash and dry your laundry?
After you've asked these questions, take a moment to figure out how much you will be paying each month. Is the apartment still in your price range?
Understanding Apartment Restrictions
Restrictions may be the reason why you decide to rent at one apartment versus another. You may want to avoid an apartment complex that allows smoking, or the fact that the apartment allows smoking may be the reason you rent there. You may want to live somewhere that doesn't allow pets because you have allergies, or you may want to be sure that you can have a fuzzy friend once you move in. If you do decide to bring a pet with you, you may be asked to increase your security deposit or pay an extra fee every month.
Tips for Living with Roommates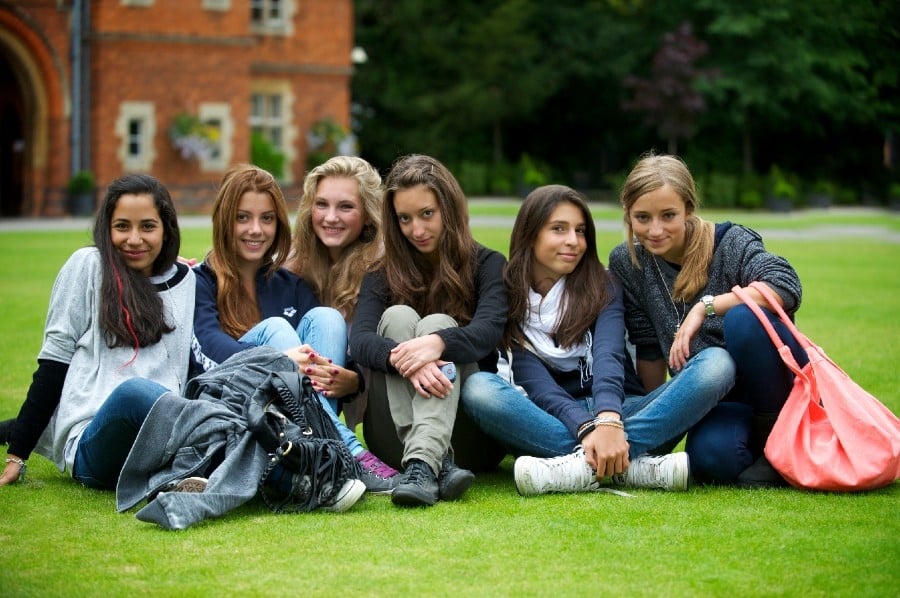 It's important to get to know the person before moving in with them, by having phone calls and texting. Moving in with roommates without asking them simple questions can lead to a headache for you or them. For example, if you really hate country music, you don't want to live with a person who loves to blast it all night long. Maybe you like drinking, but your potential roommate is uncomfortable with it at home. Ask questions about the temperature they like to have the room set to, what they do in their free time, what kind of music they like and what bothers them? Make sure that your interests line up before moving in so that you don't clash once you do.
International Students by Internatonal House London is licensed under CC BY 2.0.
When you move in with a roommate, you should discuss the following as soon as possible:
Splitting utility costs. Pre-arrange who will initiate billing for utilities and how you will split costs among your roommates. It is important to have this conversation immediately to make sure everyone is on the same page. Conversation about finances will be more uncomfortable and difficult to initiate once you become friends with your roommates.
Cleaning schedules.
Whether or not you allow overnight guests.
Will you have parties in your home?
Will you be okay with drinking or smoking?
Are there times when loud music and the television should be turned off?
The Search for Housing: Timeline and Checklist
When you applied for university, you had deadlines. You knew when to apply, when you would know and when your decision was due. Finding an apartment should have a timeline too.
After deciding where you want to go for university, finding a place to live is an important next step. You shouldn't wait very long after submitting your decision to start looking. Housing at universities fills up fast and older students began renewing their leases before you were even accepted to your school.
All this to say, sticking to the timeline below is a good option; however, the faster you move to secure housing, the better and more affordable your housing will be. The best places fill up the soonest, and you do not want to be stuck with what's leftover. Please note that this timeline is based on the assumption that you are beginning classes in the fall in August or September.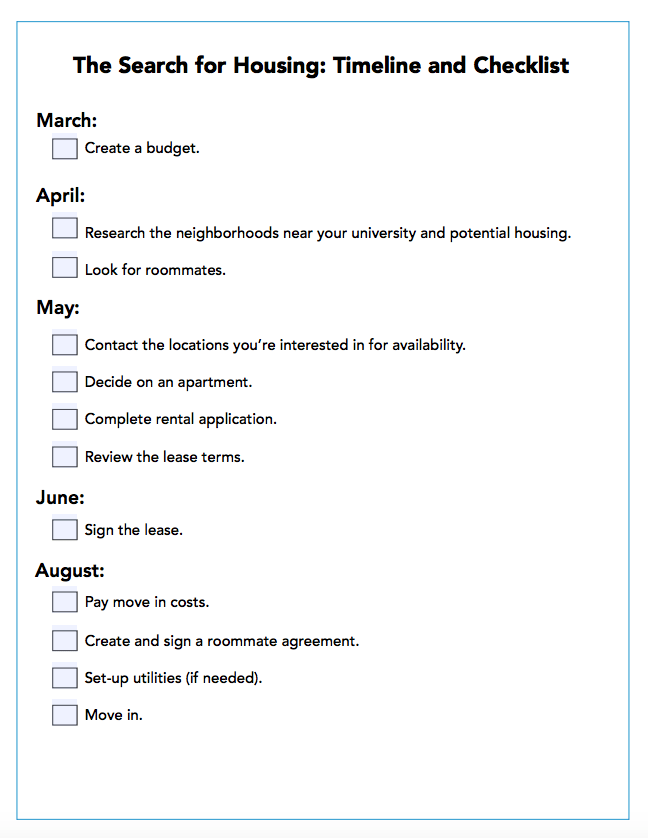 To print off this checklist, download this PDF.
General Tips
U.S electrical current is 110 volt/60 hertz. Most foreign appliances use a 220 volt/50 hertz current, these will not work in the U.S. without an adapter. Check with the electricity company before using these appliances with an adapter.
Try to tour your apartment before moving in. Ask the landlord to give you a virtual tour or ask a friend to inspect it and send you pictures if you can't go to personally inspect the housing. It will help you figure out what you'll need for the apartment.
Ask if your apartment is heated during the winter.

Know the Common Abbreviations

Abbreviations are shortened versions of words. They're usually used in advertisements for housing because newspapers and magazines charge the people listing the property by the letter. By abbreviating words, the landlord saves money.

The following abbreviations should cover everything you'll see during your search for international student housing.

| Abbreviation | Meaning |
| --- | --- |
| A/C | Air conditioning |
| Bd, bdr, bdrm | bedroom |
| Bldg | building |
| B or bth | bathroom |
| Coed | both males and females live here or use this bathroom |
| Condo | condominium |
| Dr, dinrm | dining room |
| F, furn, furn'd | furnished |
| Pk, pkg, prkg | parking |
| Yd or yrd | yard |

Learning a new language is complicated, abbreviations add a whole new twist to finding international student housing. Don't worry though, abbreviations aren't just confusing for people who aren't native to the language. If you notice below, sometimes there are three ways of abbreviating the same word, and some of the abbreviations are very simple. An abbreviation can be as short as one letter.

Glossary

The following words are used to describe different details about housing. Learning these words and their definitions will help you to make the most informed decision about where you end up living.

| Word Used | Meaning |
| --- | --- |
| Apartment Amenity | These are extra conveniences or entertainment options at your apartment complex that, typically, you can use for free. Examples include fitness centers, game rooms, pools and study spaces. |
| Break Housing | In some locations, housing is closed during break periods, like winter break and spring break. Break housing is a place to stay during these times. |
| Communal Bathrooms | A bathroom you share with students on your floor or in your apartment wing. These contain multiple showers and multiple toilets that you share with other students. |
| Deposit | You pay a deposit when you sign a lease. When you move out, the owner of your housing uses your deposit to cover the cost of any damages you may have caused. You will get it back if there are no damages to the housing. Getting back the deposit is supposed to motivate the tenant to take care of the housing. Check with the owner of the property to see what conditions you need to meet to get the deposit back. |
| Double | Doubles are common in dorms. In a double, you would have to share your room with one person. |
| Efficiencies | Efficiencies are usually one-room, studio apartments that include a bed, bathroom and kitchen area. Typically, the renter is required to pay for utilities. |
| Furnished Apartment | Furnished apartments come with furniture already inside of them for you to use. Check with the apartment owner for what exactly is included. |
| Guarantor (or co-signer) | The property owner might ask you to find a guarantor if you have a weak credit history. The guarantor will be personally responsible for paying for your lease if for some reason you can't pay. |
| I-20 | Your I-20 is your certificate of eligibility for nonimmigrant student status. |
| Landlords | Your landlord is the person or management company that owns or manages your housing. |
| Lease | Read through your lease to find out what you, the renter, and your housing owner are required to do and required not to do. You will read about the process you would go through to leave your housing by choice or if you're evicted. Read the lease before signing anything. You can negotiate before you sign, but after you sign, it is very difficult. Hire a lawyer to help you understand the language used. |
| Quad | Four people sharing a single room. |
| Rental Agreement | Most housing will have semesterly or yearly rental agreements with you, which last for the semester or year, respectively. The property owner will likely charge you a large fee if you choose to break the contract. |
| Semi-Private or Shared Bathroom | These bathrooms are shared by the other students in your apartment or by adjoining rooms. |
| Short-Term Lease | A rental agreement that is less than one year is called a short-term lease. Short-term leases, like semesterly leases, are typically more expensive than one year leases. |
| Single | In a single bedroom, you will not have to share your room with roommates. |
| Sleep Room | A furnished room with a private bathroom and closet, but no kitchen. |
| Social Security Number (SSN) | A nine-digit number issued by the United States Social Security Administration that is primarily used to track U.S. citizens, permanent residents and temporary working residents for tax purposes. Your housing owner may ask you for yours to check your credit. |
| Subleases/Apartment Sublets | Subleasing is when the person who originally rented the apartment needs to leave before the lease ends, so, the original renter rents the apartment to someone else for the remainder of the lease. |
| Subleases/Apartment Sublets | Subleasing is when the person who originally rented the apartment needs to leave before the lease ends, so, the original renter rents the apartment to someone else for the remainder of the lease. |
| Tenants | The tenant is the person who rents a from the landlord. As an international student seeking housing, you are the tenant. |
| Triple | A triple room has three occupants. |
| Utility | Utilities are resources provided by an outside agency to you within the apartment, like cable, internet, water, electricity, sewage, trash and other services. |
| Utility Overages | The housing owner might specify that utilities are included up to a maximum dollar amount. For example, the housing owner may pay for your utilities up to $150. If you spend $190 on utilities, you will be responsible for $40 because that is the overage amount. This protects the owner from excess use. |