Saving for a Down Payment: Your Groceries
December 1, 2017 by Marty Orefice | Credit, Financing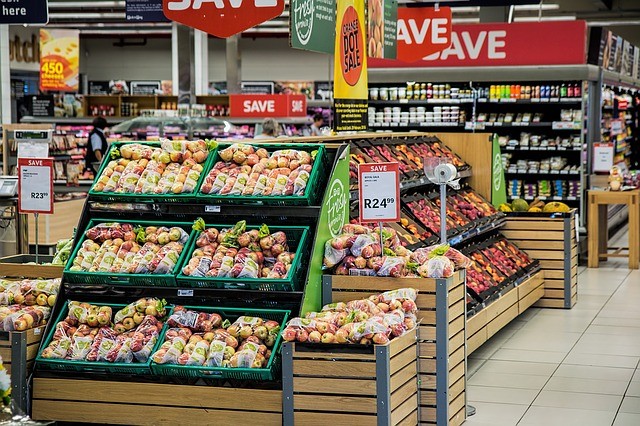 If you were to buy the median-priced home in the United States and pay a 20 percent down payment for a conventional mortgage, you're looking at $49,000, according to September 2017 numbers. That's a hefty amount of money for a family with low income.
Thankfully, there are other routes to getting a mortgage on a home that require smaller down payments, but they all require saving.
To start saving, figure out how much you're spending and create a budget. Several key factors that should go into every American budget are food, healthcare, transportation, housing, personal insurance and pensions, entertainment, cash contributions, clothing and miscellaneous, according to the Bureau of Labor Statistics.
In this series of blog posts, you'll learn how you can save money in each area to get closer to affording a down payment on a home. This post will deal specifically with your food budget. While you may already use some of these methods to save money, few people use them all. When you add it all up, it is a significant contribution to your savings account.
How Much of Your Budget Goes to Food?
A big factor in saving money is creating a budget that you stick to. You can begin to budget by figuring out how much you spend on food each month.
The average American spends 12.6 percent of their income on food, including going out to eat. For people with annual household incomes of $36,000 a year, that's $94.50 a week.
Do you spend more or less of your income on food than the average person?
If you spend more, work your way down to the average. If you spend less, figure out if there are other ways you can shrink your food bill.
Ways to Decrease Your Food Budget
A lot of trends revolving around food, like meal prep and couponing, could save you money. By implementing them in your weekly plan, you can save money that you can later dedicate to your down payment savings account.
Prepare your meals in advance.
Meal prep has become a big trend across social media and blogs. That's because it works. While most people discuss it as a strategy to eat healthier, it's also a great way to save money.
The average soup is about six servings, but if you meal prep and freeze half, you can make twice as much for just a little more money. Having food ready to eat at home after work will prevent you from pulling through the drive-through or ordering in when you're tired. Plan your meals for the entire week by cooking them all on Sunday, and have them ready to thaw from the freezer for quick and easy meals after work.
You should also have all the ingredients you need. The lack of easy-to-make and transportable food is a big reason why many people go out to eat on their lunch break. If you buy bread on your weekly shopping trip with a few of your favorite meats and/or veggies, you can take a sandwich to work every day and avoid wasting money at restaurants.
A footlong at Subway, a bowl at Chipotle, a meal at Pei Wei and most other similar-style restaurants is about $7. If you go out to eat at these type of restaurants every day, you're spending $35 a week, or $1,820 a year. On the less expensive side, you might be frequenting McDonald's, Wendy's, Burger King or a similar-style fast food chain, which is about $3 a meal. That would mean you're spending $15 a week, or $780 a year.
Meanwhile, a homemade peanut butter and jelly sandwich costs 32 cents. Even if you buy pre-made peanut butter and jelly sandwiches, those cost 64 cents each. A homemade ham and cheese sandwich costs 63 cents. Let's say that you eat homemade peanut butter and jelly half the time and ham and cheese for the other half. You would spend $123.50 a year. Even if you ate ham and cheese (or a comparably priced meat and cheese) every day of the year, you would spend $163.80 a year.
By taking lunch to work instead of eating out every day, you save at least $616.20 per year on food for one person. That number multiplies by the number of family members in your household who work.
Buy food and other groceries in bulk.
Buying in bulk can save you money. You can do it for your groceries, hygiene products and cleaning supplies.
A 64 oz Great Value brand jar of peanut butter costs $7.51, according to Walmart's website. That is $1.88 per pound and the best value on Walmart's website. If you buy 50 percent more peanut butter at Sam's Club, a Walmart owned bulk store, you can get it for a $1.66 per pound and have your choice between Jif or Peter Pan Brand peanut butter, both priced at $9.98.
The same is true for a lot of common ingredients that families use often. The great thing about buying these foods in bulk is that they don't go bad very easily. Peanut butter has a sell-by date of a year and a half. More so, food doesn't go bad at the sell-by date. Grocery stores should sell it by that date so that you have a chance to eat it before it goes bad. So, even if you're not making peanut butter and jelly sandwiches every day or week, you'll get through the entire jar before it's time to throw it away.
Another neat trick is to buy the generic brand of items. For example, 100 oz of Members Mark Dishwashing Liquid (the Sam's Club brand) is $1.80 cheaper than 72 oz of Dawn Dishwashing Liquid. Buying from generic brands typically buys you a greater quantity of a product for a cheaper price. Note: The 72 oz. Dawn Dishwashing Liquid still turns out to be much cheaper than buying regular-sized Dawn Dishwashing Liquid.
If you're consistent with this strategy, you can easily save $60 a year by buying generic brands in bulk, but if you are diligently looking for deals, you could save a lot more.
Plan out what you're going to eat and make a grocery list.
Similar to the last tip, planning out your meals in advance saves you time and money on last-minute grocery trips for a forgotten ingredient and spoiled food in the refrigerator. If you only buy the food that you plan to eat within the week, less food will go bad. American households waste about 21 percent of the food they purchase, which is about $21.50 per week for a household that earns $36,000 income per year.
Use couponing apps before you grocery shop.
Some stores have their own couponing apps that you can use to get better deals on products in store, like Target's Cartwheel app which gives you percent off discounts on varying goods. Whole Foods has a similarly styled couponing app. Some apps allow you to print out coupons for the items on your grocery list before leaving the house, and others scan them directly from your phone.
Sign up to receive your supermarket's weekly ad. Target often has offered gift cards for people who spend a certain amount on food, hygiene, etc. Sam's Club frequently has money off for specific brands. Costco sends out flyers with coupons. And Walmart matches coupons from competitors.
Using these types of apps and email subscriptions can save you serious money on your shopping trips. The amount varies, so we will not quantify an example.
Use gift card/rebate apps to earn money while shopping.
Apps like Shopkick, Checkout 51, Ibotta and Savings Catcher earn you gift cards you can use for groceries. When you use Shopkick, you get kicks for walking into stores and scanning product barcodes that you can redeem for gift cards. Ibotta and Checkout51 give you rebates for items you bought in the score when you scan your receipt. You can see the items available in the app and use it to plan your grocery trips. However, don't let a good rebate trick you into buying something you won't use or something that is still more expensive than the alternative after rebates.
If you prefer to shop at Walmart, use the Savings Catcher app. To use the app, scan the receipt from your Walmart visit. If the app finds any advertisement from competing stores that lists the product as cheaper, it will issue you a refund for the difference in the form of a Walmart gift card. However, you cannot just assume that you'll get the best deal. They limit it to products of the same brand that are advertised.
Let's assume you exclusively use Shopkick; we've chosen this app because it is easily quantifiable. Most grocery stores offer 25 kicks just for walking in. Let's assume you do not turn the app on when you walk into any other store, which you should do. Additionally, we will assume you scan 50 kicks every time you go grocery shopping, which is about two items. That's 3900 kicks, which convert into $16 worth of gift cards a year. You earned that just by opening the app when you get to the store and scanning a few things as you walk around. That doesn't sound like a lot of money, but there are far more opportunities to earn kicks with this one particular app and other apps.
The more time you spend using these types of apps, the more money you save. In a sense, they're kind of like a job, but you can use them without going out of your way or putting in too much time.
Take advantage of every program your store offers.
At Target, link a RedCard to your checking account. You will get five percent off Target purchases and free shipping online. It will act like a debit card and take the money directly out of your bank account, so you will not need to worry about paying interest on purchases. At CVS, join the ExtraCare program and earn Extra Bucks (basically money that you can use to discount your entire purchase) and coupons based on what you purchase. The Walgreens Balance Rewards program is similar to CVS's program. Look into whatever store you typically shop at and see if its program is worth applying to.
So, How Much Can You Save?
For a household that makes $36,000 a year, you will save $1,118 a year from only buying foods that you have planned to eat within the next week by reducing your food waste.
Using the given estimates, you save $60 by buying generic products in bulk, $616 from taking lunch to work, and $16 with couponing apps.
Next, we will analyze what you can save from joining store loyalty programs. For the sake of simplicity, let's assume you purchase all of your groceries at a Target SuperStore, and you've linked your checking account to a Target RedCard. If you use the RedCard on all your grocery purchases a year and spend what the average family making $36,000 a year spends on groceries, you will save about $245 a year from using loyalty programs.
By using these methods, you will save about $2,055 a year, at least. You can apply that to a savings account for your down payment.
It's important to remember, you likely will not save up for a down payment within a year, but these posts will aim to make it feasible within five years.
Shopping Supermarket Merchandising by Stevepb is licensed under CC0.